I have to say that we are loving the lapbook idea! I found a site that has free plans and printouts for just this very thing! So far we have completed a "monkey" and a "cat" lapbook. We cut, pasted, researched, and read until we had all the information needed for our lapbooks.  All you need is the website,  some manila folders, library(our second home)  :), and the website, oh and a printer to print out the pages.  Have some scissors, glue and crayons handy too!
My 8 year old "hands on" learner loves to cut, paste, and create! So, this idea is great to keep his hands and his mind busy!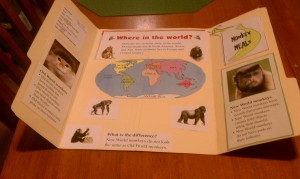 http://www.homeschoolshare.com/index_animal_studies.php
Enjoy your creations together! :)

Here are some more treasures!