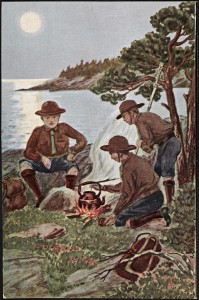 Here is a note from my sweet husband:
Greetings from Blood Mountain! Dinner is being cooked. Tents are pitched. Boys are in good spirits. Weather is windy, cool, and dry – perfect for camping!
I was a little curious about how that mountain got it's name, so I did a little research! Google is my friend….
"There are various theories on the origin of the mountain's name. Some believe that the name of the mountain comes from a bloody battle between the Cherokee and Creek Indians. Some people believe that it got its name from the reddish color of the lichen and Catawba growing near the summit." From Wikipedia Photo credit:
http://commons.wikimedia.org/wiki/File:Speidergutter_ved_bålet_Boy_scouts_camping.jpg